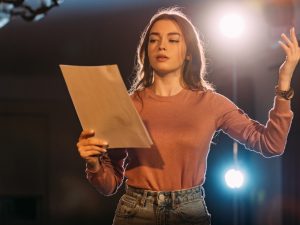 LAMDA have been offering practical examinations in communication and performance subjects for over 130 years. They work in a similar way to music exams and cover a range of disciplines.
https://www.lamda.ac.uk/lamda-exams/our-exams
Our Lamda Teacher Sigita has coached many young artists, helping them to build vocal strength and longevity, acting and speech skills that has enabled them to excel on stage and achieve great LAMDA grade results. Sigita has a Bachelors degree in Actor-Musicianship from the University of West London.
Sigita has Performed in various theatre's in different countries ( doing Musical theatre, Theatre for young audience, Drama and Spoken word) and has experience as a Musical director and composer.
Sigita has a calm, patient, supportive and friendly teaching style, that helps her students to achieve wonderful results not only with instrumental music but also with singing, acting and spoken word development.