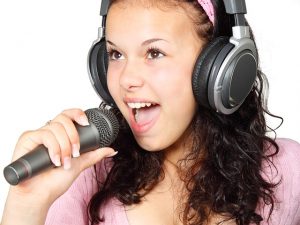 We offer solo singing and group harmony singing lessons. Our singing teacher Zydre uses vocal placement technique, which she has found to be by far the best method for training the voice.
Zydre has coached many top artists, helping them to build vocal strength and longevity that has enabled them to excel on stage and in the recording studio.
We have our own recording studio in which we records the vocal sessions during lesson so that you can hear your progress as you learn. We also use our recording studio to produce fully mastered demos for our students.
Some of the singing techniques Zydre teaches are:
Coaching based on voice placement
Pitch control
Expanding register
Voice strengthening
Breathing / diaphragmatic support
Developing stylistic technique
Developing individuality
Bridging between vocal registers
Developing chest, mixed and head voice
Harmony and ear training
Our singing lessons are broken down into two halves. In the first half, you will do vocal warm-ups, technical work through use of scales and other various vocal exercises. In the second half, we work on applying the techniques we learn in the first half to songs chosen by you and the teacher.
We look forward to working with you soon and helping you to find your true voice in a fun, relaxed and enjoyable environment.
Academic Year 2018 – 2019
 TERM 1 (Autumn)             10/09/2018 – 21/12/2018
 TERM 2  (Spring)               07/01/2019 – 14/04/2019
 TERM 3  (Summer)           23/04/2019 – 21/07/2019
​We do not have half term holidays during the Academic Year.
FEES: Singing – 30 mins: £68 per month
Singing- 60 mins: £108 per month
Fees are paid monthly in advance (a week before the new month commences). The fees above are for a standard month of four weeks, in the case of a month having more or less than four weeks, the amount will vary accordingly.
If you are not available to attend your session we can always offer you another time slot if one is available in the same week, otherwise we do not offer refunds.