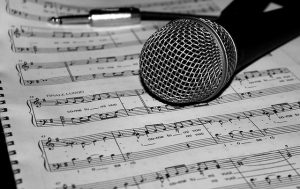 Writing lyrics and adding music to it is a great way to express your feelings and relieve stress. Putting your thoughts and emotions down on paper is unbelievably therapeutic. Many students who have never written a verse to a song or even contemplated writing a song have discovered a hidden talent and left lessons feeling pleasantly surprised. Once you create your song (which can take around three to five lessons), you can opt to take it to a recording studio of your choice or use our recording facilities.
We believe there is a hidden lyricist in everyone!
We can help you create that song to launch your career or just to play at a special occasion like a wedding or birthday; or even while driving in the car with friends and family. Hearing the song you created for the first time will be magical and fill you with a sense of immense pride and accomplishment. Before you know it, you will be writing yet another song!
So challenge yourself today and let us help you bring out the lyrist in you!